Anthony Tompkins
Real Estate Salesperson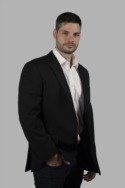 Anthony Tompkins is a native of Westchester County, New York where his passion for business was first cultivated. He was awarded a scholarship to play football at Dean College and that is where he studied in Business and Civil Engineering. After college he decided to test his skills in the customer service industry. His understanding of excellent client services rises from his successful business background. He helped facilitate the opening of 5 restaurant/bars in Arizona, Colorado, and Manhattan. He specialized in marketing, and customer service. While opening these franchises his leadership capabilities also enabled him to become a corporate trainer to help other newly hired people within the company fill their desired roles with excellence.
His goal is to make every transaction as smooth as possible, with a straight forward approach. Whether you're looking to buy, sell, rent or invest he will strive and never give up on making your dream come true!
Customer Reviews
"As first time homebuyers, me and my fiancé were super nervous and anxious about the whole process. Anthony was above and beyond anything we could ever hope for and made the process incredibly easy. His availability and communication were second to none and we could not have asked for a better realtor to help us with this purchase. I highly recommend Anthony to anyone in need of a realtor!"

"Anthony was extremely helpful throughout each step of the process in selling our home. He communicated well and often regarding what needed to be done and made selling our home a very seamless process. Very knowledgeable in the area and easy to work with."

"We have already recommended Anthony Tompkins to a number of our family members and friends. He is truly wonderful. We had been searching for a condo townhouse for a number of months, and had contacted many agents, until we found Anthony. He listened very attentively to our wants and needs, and was very quick to respond to all of our text messages and phone calls. We decided to work exclusively with Anthony, and we are so glad we did. Anthony is an honest and very professional real estate agent, who truly advocates for his clients. He is very knowledgeable about the real estate process, and is a reassuring and humble person to work with. Anthony's sole focus is to find a home that best suits your needs. He truly became like family. We so enjoyed working with Anthony, and we are now happy owners of a condo townhouse that he helped us find. In our opinion, if you want the best real estate agent in Westchester County, call Anthony Tompkins. He is a good man, and a great real estate agent."

"It was truly a pleasure to work with Anthony in our search for a new home. He was very helpful throughout what could have been a stressful process. His knowledge of the market and his network of 3rd party vendors including home inspectors, lawyers and banks made purchasing a home so much easier. Anthony went above and beyond in so many ways including always making himself available for questions, tours and any other ad hoc requests. My family and I would definitely recommend him to anyone without reservation."

"Anthony was great to work with from start to finish! He was very knowledgable able areas that he thought would fit my needs. He was always very responsive with feedback about what he thought would benefit me in the future. He was always a pleasure and I highly recommend him."

"As our buyer's agent, Anthony set himself apart from all others that I have worked with in the past with his knowledge of the local market and Westchester in general. His suggestion of what our offer should be was spot-on, as both parties agreed after minimal negotiation. Anthony's level of communication is unsurpassed. We regularly communicated after hours, before hours, and weekends. I will look to Anthony for all future transactions."

"Anthony is incredibly patient, personable, flexible, knowledgeable, responsive and more than fair. When I had concerns, he immediately did his best to resolve the issues. His communications skills are perfect and quite clear. He listened carefully to our needs and guided us to the perfect properties that matched our specifications. I would highly recommend engaging his services."

"Anthony exceeded our expectations. He made our home buying process go really smooth, he was always available and responsive. We are so grateful that Anthony was able to truly understand what we wanted. He really made us feel like a priority And had our back along the way."

"Anthony had been extremely helpful since the start. He is very active in responding to my concerns, and often thinks ahead and does research for me in order to offer me more options. He is always patient and quick to respond to all my questions. He also made sure to update me every step of the way and goes out of his way to resolve issues that occur. It had been an very positive experience working with him. His energy and positivity really made a stressful process a little bit easier."