Robert "Bobby" Bowker
Real Estate Salesperson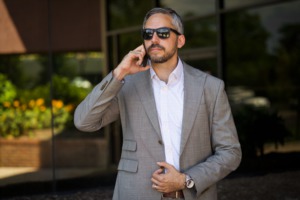 Robert "Bobby" Bowker, Associate Broker.
Robert "Bobby" Bowker, known as the Smart Investment Realtor, joined Hire Realty LLC in 2018. Before joining The Hire, he spent time analyzing multi-million dollar ,real estate investments. Bobby, became well versed at under writing different buy, sell, hold scenarios, for sophisticated investors. His duty was to ensure these acquisitions met the investment criteria, of the buyers/sellers. He is taking this advanced understanding of real estate investing, commercial real estate, customer service, & bringing it to Main St. Whether you are looking to buy your first home, ideal investment, or consultations, he will be the professional you can rely on. Bobby is also a lifelong resident of Westchester County, business owner, husband, & father to 2 amazing boys. He believes in delivering exceptional value and professionalism, to all his clients.
Customer Reviews
"Bobby was amazing, we were going through a difficult situation and sold before our purchase, helped us sell and buy. He always had patience with us and kept it calm. Understood the stress we were going through. He always went above and beyond, and did his due diligence. I would definitely recommend Bobby, and definitely use him again in the future. With Bobby you get someone that truly cares about your interests."

"Mr. Bowker was a pleasure to deal with. He is very knowledgeable and helpful and very cooperative. He was able to make suggestions for improving the property I eventually chose."

"We were in the market to rent a home in the Croton in area for the next few years, while my daughter was finishing school. We contacted many local agents and known were of assistance. We saw Bobby's listing gave him a ring and WOW! He got all our paperwork together worked with the owner and got us in there when we wanted to and for the terms we were seeking. It was a very seamless process. Highly recommend him as he was the BEST realtor we have ever dealt with."

"Bobby negotiated and brokered the lease deal on our behalf swiftly, expertly, and with greatest of ease. Within 24 hours of viewing, we had a signed lease and keys in hand! I highly endorse Bobby for all of your real estate needs."

"We are so happy with our experience with Bobby. He was professional, knew the area/market well and was extremely knowledgeable in all things "home". As first time homebuyers we are so glad we found Bobby to walk us through this process and have our best interest at heart. He was always available for questions and very responsive even after we were under contract and most realtors may not have been. Without him we wouldn't have even found our house, which was not on the market yet when he showed it to us. He truly went above and beyond to listen to what we needed, our budget and found us a unique situation that ended up being more than we could have ever asked for. We have already recommended him to friends and family. Thank you for everything Bobby!"

"We were looking for a place to rent, and Bobby was extremely helpful, knowledgeable, and honest during this process. He was also very prompt in answering any questions or concerns we had."

"Bobby was Timely, professional, and friendly. He was always on time, unlike most others, and quick to respond to texts and emails. I had a great experience and would recommend him."

"Bobby was helpful, knowledgeable, easy to talk to, and most importantly: honest. It's rare to find that combination of capability and professionalism, and I recommend him highly to anyone looking for help with buying or selling a home in the area. For some examples: we were interested in a home that was in good shape, but in need of some maintenance. He understood the severity of our concerns and already knew by memory the local laws that applied to some of them. That helped us move quickly to address the issues and make sure everything was safe. He also knows a lot of people in related industries, and his recommendations are solid. Because we were being very cautious with our purchase, we independently verified the folk that he recommended with local communities here, and every contractor he brought up had a good reputation. Home buying is an intimidating process, and with Bobby's help, we're happy with the whole experience."

"Selling the house my sister and I grew up in, and where our blended family began over 35 years ago when my mother married a man with children, was one of the hardest things we had to do of late since our 87 and 88 year old parents' health was failing and they were no longer able to maintain their house. I chose to work with Bobby Bowker because he gave me hope at this difficult time and reassured me he would do his best at selling the house for what we needed to get our parents into a stable financial position. He moved quickly, professionally, and went above and beyond by handling everything for us (and during this Pandemic too) including being the point person for the removal of their oil tank which was in the ground and needed to be replaced and installed in the basement. This included having soil tested, water from their well tested, and much more. Bobby handled it all for us. Yes, Bobby went above and beyond what an average, even an above average realator would do. He was true to his word, honest and trustworthy. We had offers the first day the house was listed. The photos Bobby took were beautiful. The listing was accurate, and the house priced well for its condition. Myself and my siblings are so grateful to Bobby for all the work he did to make this sale happen. We are finally able to get our parents settled in their new location and we couldn't have done it as quickly and efficiently had it not been for Bobby. I highly recommend him for your listing needs. I'm sure he'll do as great a job for you as he did for us. Thank you Bobby Bowker! You're the best!"

"Goes above and beyond any expectations you may have. In constant contact with e throughout the entire process and always got me the answers to all questions or uncertainties that I had. A true pleasure to work with! THANK YOU FOR EVERYTHING!!!!"

"Bobby was beyond knowledgeable on how to find and look at the real value of investment properties. He took the time to explain what he believed They would be worth once rehabbed and with new tenants. He went above and beyond what I expected a real estate agent would be able to do. He is a true expert at his craft."

"Bobby was a great help in finding us what we were looking for. He was very knowledgeable about certain things. And he also went above and beyond to get us what we wanted, any extra info, and what we needed."

"We found our home within a few days of it coming on the market and didn't want to miss the opportunity to buy the home that had everything we wanted. Bobby from start to finish was nothing but professional, prompt, and was more than willing to share a wealth of knowledge with us as this was our first time purchasing a home. Would recommend to anyone looking for a realtor, as a first time home buyer or not. Bobby provided us with a great experience all around."

"If you require prompt responses and exceptional communication skills "Bobby" is surely the realtor you want in your corner. I was recommended to him by a close friend and we are still that, close friends. Thanks again for an amazing experience and can't wait to use him again once I'm ready to jump back into the real estate market. And I definitely would like to mention the we set the bar for the highest sold condo unit in my complex boasting close to 1000 units(sold in 6 days) So that speaks for itself!!!!"