Moving To and Living in Putnam County, NY: The Definitive Guide
Posted by Philip Pasma on Thursday, May 13, 2021 at 3:18 PM
By Philip Pasma / May 13, 2021
Comment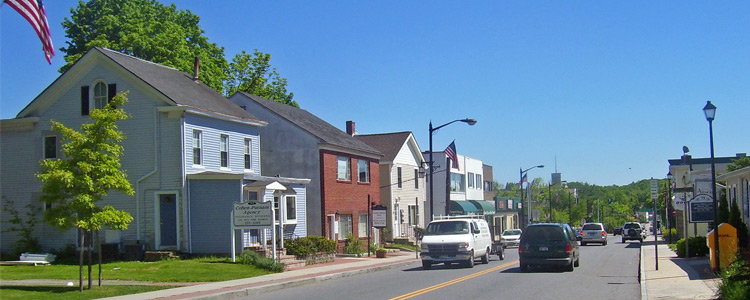 Located in the lower Hudson River Valley is Putnam County, NY. Home to just over 98,000 residents, Putnam County is included as part of the New York-Newark-Jersey City Metropolitan Statistical Area. Spanning 246 square miles, Putnam County is a beautiful and scenic area that is made up of six towns and three incorporated villages. There are no official cities which are located in Putnam County.
View All Homes For Sale in Putnam County, NY >>>
The area is considered one of the most affluent counties in the country, having ranked 21st by median household income and 43rd by per-capita income. To those that live there, Putnam County is a quaint and charming community filled with excellent real estate opportunities, beautiful scenery, excellent schools and some of the friendliest neighbors you can find.
What is the History of Putnam County, NY?
Putnam County was inhabited by Wappinger Native American people during the 1600s. In 1691, a group of Dutch traders purchased a portion of land which they later sold to wealthy Dutch-American merchant Adolphus Philipse, who obtained a Royal sanction for a "Highland Patent" that encompasses what is now known as Putnam County.
Compared to other parts of the Hudson Valley, Putnam County experienced slow growth and development. It was privately owned land, so the residents would consist of tenant farmers who were willing and able to pay the Philipse family a lease.
After the American Revolution, since the Philipses remained loyal to the Crown, their land was confiscated by the New York government. In 1812, Putnam was split off from Dutchess County and organized as an independent county.
Years later, Putnam County played an important role during the Civil War, with one-third of the area's men between ages 15 and 55 fighting for the north. Post-war, much of the Putnam County area was flooded as a means to create reservoirs to address the need for drinking water in New York. Not only did this aid in the drinking water shortage, these reservoirs made for scenic areas and attracted vacationers from the city.
Post World War II, Putnam County was considered a bedroom community for New York City. Due to the limitations on development due to the reservoirs, Putnam County hoovered between traditionally rural and suburban.
Today, Putnam County is a picturesque area that offers low-density towns and villages which enjoy excellent locations, beautiful surroundings and friendly neighbors.
What is Real Estate like in Putnam County, NY?
There are many different housing styles and sizes which are found in Putnam County. The real estate landscape of the area encompasses everything from single-bedroom condos to expansive, waterfront estates.
The majority of housing options available in Putnam County, NY are single-family detached homes. There are, however, a handful of low-rise condo buildings and townhomes developments which are dotted throughout the area as well.
Neighborhoods in Putnam County, NY
There are a total of six towns and three unincorporated villages which make up Putnam County. Dotted throughout the area, these beautiful communities enjoy safe and quiet streets and well-established greenery.
Carmel, a hamlet and census-designated place in a Village which shares the same name, is home to just under 7,000 residents. Carmel Hamlet only encompasses 10.4 square miles in total and is the site of the historic County Courthouse which was built in 1814. Buyers are attracted to the area as the hamlet has been untouched by urban sprawl that has taken over many of the surrounding communities.
Located adjacent to the Connecticut border is the scenic hamlet of Putnam Lake. The census-designated place, which covers just over 4 square miles, is home to approximately 4,000 residents. Many of the homes for sale in Putnam Lake are dotted near the water's edge and have become popular summer retreats as well as full-time residences.
Brewster Hill is a small hamlet of approximately 2,300 residents which is located in the town of Southeast. Falling on the east side of Tonetta Lake, Brewster Hill offers buyers a rural atmosphere in a tight-knit, safe community.
What is there to do in Putnam County, NY?
Putnam County is filled with endless amenities and activities for residents of all ages to enjoy. Hours of fun can be had in the many lakes, parks, recreation areas and green spaces that are sprinkled throughout the county.
The Fred Dill Wildlife Sanctuary is a great space to enjoy the outdoors. The 163-acre park is located in Carmel, NY and offers a beautiful trail network. A scenic hike will have you viewing animals, and a pond acts as a great place to take a break or have a snack.
Both avid and occasional golfers will find plenty of opportunities to improve their game as Putnam County is home to a handful of excellent courses. Beautifully cared-for courses provide hours of premier golf with varying degrees of difficulties. Golf courses located in and around Putnam County include:
Putnam County Golf Course
Mahopac Golf Club
Centennial Golf Club
Sedgewood Golf Club
Enjoy the great outdoors in Putnam County
The Putnam County Parks and Recreation Department manages a number of parks, conservation areas, and trail networks found throughout the county. From winding trails to open green spaces, residents of Putnam County have ample opportunities to get outside and enjoy the beautiful outdoors.
Parks located in Putnam County include:
Located on Gipsy Trail Rd., Veteran Memorial Park is a well cared for community park which is home to a number of memorials, including The Blue Star Memorial By-Way, Gold Star Mothers Memorial, US Navy Anchors and The Angel of Hope Memorial. The park is also home to the Putnam County Veterans Memorial Museum.
Michael Ciaiola Conservation Area
Spanning over 800 acres, the Michael Ciaiola Conservation Area is Putnam County's largest park. A trail network, gorge waterfall and plenty of wildlife can be found in the conservation area.
Dixon Lake is a small lake that allows for non-motorized watercrafts. Residents and visitors of the area enjoy spending the day on the water as well as fishing.
Other parks include Tilly Foster Farm, Fred Dill Wildlife Sanctuary, Cornerstone Park, Donald B. Smith Conservation Area and Lake Gleneida Trail.
The Clarence Fahnestock State Park spans an impressive 14,000 acres and features over 50 miles of trails, including nine miles of the Appalachian Trail. Also popular in the area is a small ski resort in Patterson, Thunder Ridge Ski Area which has 30 miles of trails and 30 lifts.
There are a plethora of lakes found in Putnam County which allow for a variety of water activities. From swimming to boating, fishing and more residents of the area spend much of their time during the summer months on or in the water.
Some of the lakes located in Putnam County include:
Oscawana Lake
Lake Mahopac
White Pond
Canopus Lake
Lake Gilead
Lake Casse
Lake Gleneida
Lake Tonetta
White Lake
What are the Schools in Putnam County, NY?
There are six separate school districts that oversee education for children residing in Putnam County.
Brewster Central School District:
The Brewster Central School District serves the students of Southeast and surrounding areas from four schools. There are roughly 3,050 students from kindergarten through grade 12 who fall within the district's jurisdiction. Schools that make up the Brewster Central School District are:
Carmel Central School District:
The Carmel Central School District is located in Patterson, NY and serves roughly 5,000 students from six different towns. Students located in Carmel, Putnam Valley, Patterson, Southeast, and East Fishkill all fall under the well-rated district's jurisdiction. Schools located in the Carmel Central School District include:
Garrison Union Free School District:
Often referred to as just Garrison School, it serves students from kindergarten to grade eight who reside in the hamlet of Garrison as well as the towns of Philipstown and Putnam Valley.
Haldane Central School District:
Located in Cold Springs, NY is the Haldane Central School District which serves students of Putnam County and surrounding areas. There are just over 810 students from kindergarten to grade 12 who are served by the district. All three of the schools, elementary, middle and high, are located on the same campus.
Mahopac Central School District:
Mahopac Central is the largest school district that serves residents of Putnam County. There are over 5,000 students who attend four elementary schools, one middle school and one high school. Schools in the district include:
Putnam Valley Central School District:
Serving students of Putnam Valley and surrounding areas, the Putnam Valley Central School District is a highly rated district. There are roughly 1,655 students who fall under the district from kindergarten to grade 12. The three schools are:
Art & Culture in Putnam County, NY
Putnam County has a rich history that is proudly displayed in a variety of ways throughout the community. Museums, memorials, historic sites and more tell the story of the area and the people who contributed to what Putnam County is today.
In the town of Kent is the Chuang Yen Monastery, which features the largest indoor Buddha statue in the Western Hemisphere. The town is also home to the country's only library which specializes in Buddhist history.
The Southeast Museum, located in the town of Southeast, resides in one of Putnam County's largest landmarked buildings and is listed on the National Register of Historic Places. Visitors are able to take a trip back in time and view exhibits which include the early American circus, Harlem Line Railroad and the Tilly Foster Mines.
Magazzino Italian Art is a gallery and research center that supports and showcases postwar and contemporary Italian art pieces. Located in Cold Springs, Magazzino, which means "warehouse" in Italian is a 20,000 square foot facility that opened its doors in 2017.
Additional noteworthy museums and centers:
Trailside Museum and Zoo
Storm King Art Center
Katonah Museum of Art
Motorcyclepedia
Restaurants and Shopping in Putnam County, NY
Located in Putnam County are a number of shopping centers, plazas and malls that offer residents a wide variety of retailers. From everyday needs such as pharmacies, grocery stores and convenience stores, to one-of-a-kind stops for gifts, housewares and more, Putnam County has plenty of options.
Both Somers Commons and Mahopac Village Shopping Center are located on US-6 and are home to a variety of stores which include options such as discount stores, financial institutes, coffee shops, hobby stores, and fitness centers.
The Highlands Shopping Center is located just north of Brewster and offers popular retailers which include Marshall's, Michaels, PetKraze, The Home Depot and Kohls.
Putnam County is home to a diverse dining scene with a mixture of chain restaurants and locally owned establishments found throughout the area. Residents can enjoy a variety of flavors in many of the ethnic restaurants, catch up with friends over a drink and the game in a number of bars and grills, or celebrate a special occasion with some fine dining. Some of the popular restaurants located in Putnam County include:
Cutillo's Restaurant | Carmel Hamlet
Char Steakhouse and Bar | Mahopac
Panchos & Gringos Mexican Restaurant | Putnam Valley
The Arch Restaurant | Brewster
Iron & Wine Restaurant | Patterson
Regardless of where one resides in Putnam County, the area is filled with warm and welcoming communities which are bursting with beautiful neighborhoods, scenic surroundings, excellent schools, and exciting things to see and do. Residents of Putnam County truly enjoy the best of both worlds, with their peaceful towns and hamlets that are nestled along lakes and mixed among rolling hills, all while falling a comfortable drive to one of the country's most exciting cities, New York. Combine these factors and it's simple to see why more and more buyers choose Putnam County, NY for their next home.