Moving To & Living In Yonkers, NY - The Definitive Guide | 2020 Edition
Posted by Philip Pasma on Monday, October 26, 2020 at 3:02 PM
By Philip Pasma / October 26, 2020
Comment
Yonkers is located in Westchester County and is New York's fourth largest city. Located along the beautiful Hudson River, Yonkers consists of 4.5 miles of scenic waterfront, offering up some of the most gorgeous waterfront views to its residents.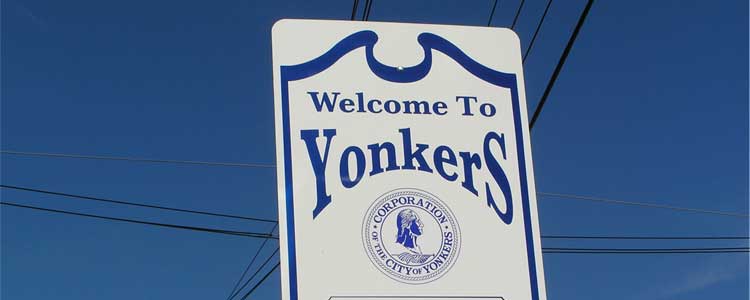 Residents of Yonkers can have all the amenities of the bustling Manhattan life, being just 2 miles from north Manhattan, while opting for a safer and less expensive neighborhood to call home. With the fantastic transportation system, it's easy to travel through and around the Yonkers area. There are ten Metro North Railroad stations throughout Yonkers, as well as five major highways connecting to the rest of Westchester County and New York City.
What is the History of Yonkers, NY?
Yonkers was originally founded by Dutch colonists and in 1645, the land was granted to Adriaen van der Donck who was known mostly as Jonkheer or Jonker (jong meaning young and heer meaning lord, or young gentleman), which is where the name "Yonkers" comes from.
The first 200 years of Yonkers being established, it was mostly a small farming town along the waterfront. The economy really began to take off in 1853 when Elisha Otis first invented the safety elevator and established the Otis Elevator Company. A local carpet company, Alexander Smith and Sons Carpet Company, also expanded their business at this time, opening up many job opportunities for more than 4,000 workers in the area.
Yonkers continued to develop and grow and become incorporated as a city in 1872. In 1888, the New York City and Northern Railway Company decided to connect Yonkers to Manhattan, which greatly helped with the development and urbanization of the city.

During the first World War, Yonkers residents contributed greatly to the cause. 6,909 Yonkers residents offered their services to the military and civilians contributed by joining the American Red Cross. By 1916, 126 people joined the Yonkers chapter of the Red Cross and by the end of the war, the amount was up to 15,358. These people volunteered their time preparing surgical dressings, putting together hospital garments, and knit clothes for refugees and soldiers.
World War II saw the city of Yonkers offering up their factories to temporarily produce items to aid those in the war. Local factories switched to making blankets, tents, and a myriad of other items needed by those fighting in the war.
The Otis Elevator Factory, Yonkers' largest and most productive factory, finally shut down in 1983. The loss of jobs was detrimental to the economy and Yonkers became primarily residential. Wealthy New Yorkers wanting to get away from the busy Manhattan scene began moving into Yonkers, creating neighborhoods such as Crestwood and Park Hill. With the railways and parkways, it was easy for urban socialites to move out of the city while still having easy access to all the conveniences of Manhattan.
Yonkers has steadily grown over the years as a residential city and kept up its reputation of being home to some of the finest, and safest, neighborhoods in New York State.
What is Real Estate like in Yonkers?
There are a wide variety of homes to be found in Yonkers, New York, appealing to every demographic. Whether it's a family settling in to raise their children, a retired couple looking for a quiet residence, or a young individual with big dreams of working in New York City, there's a place for everyone in Yonkers.
The cost of Yonkers real estate varies depending on the size and style of the home. Single-bedroom and studio condominiums start as low as $40,000 and can cost as much as $450,000. Single-family detached homes typically run between $300,000 and $850,000, though some neighborhoods such as Park Hill and Crestwood range more between $1 million and $4.5 million.
Yonkers is also home to many townhouses and multi-family homes. These typically cost between $299,000 and $650,000.
Neighborhoods
Yonkers can be divided into four main quarters: Northeast Yonkers, Northwest Yonkers, Southeast Yonkers, and Southwest Yonkers. There are more than 37 distinct neighborhoods in these quarters, including some of the most expensive residences in the region.
Northeast Yonkers is made up of a variety of different-styled homes including small, close-set houses, larger homes like those in Lawrence Park, and mid-rise apartments along Central Avenue. Many homes in Northeast Yonkers are more expensive than those in the other quarters of Yonkers. Upscale residences can be found in Crestwood, Colonial Heights, and Cedar Knolls. There is also a luxurious gated community called Winchester Villages.
Northwest Yonkers is a more historic section of the city. Many of the homes found here are Victorian-era houses. The recent focus on the historic preservation of this area has led to the refurbishing of the original streets and roads, creating a picturesque portion of Yonkers, which has attracted many filmmakers to the area. Neighborhoods in this quarter include Nepara Park, Runyon Heights, Glenwood, and Greystone.
Southeast Yonkers is home to a large population of Irish-American and Italian-American families. An area on Midland Avenue has actually been dubbed the "Little Italy" of Yonkers. The Cross County Shopping Center is a major landmark in Southeast Yonkers.
Southwest Yonkers was built up around the major railways and bus lines. South Broadway and Getty Square connect to New York City by bus lines and hundreds of apartments cluster around the bus stations. This provides residents with easy access to the city. Neighborhoods such as Lowerre, Nodine Hill, and Hudson Park are filled with apartments, multifamily row houses, and detached single-family homes. Out in the Park Hill neighborhood, large mansion homes can be found.
There are a multitude of activities for the young, old, and everyone in between in Yonkers. For the residents of Yonkers, there are countless opportunities to be amused and entertained.
For the younger demographic, Yonkers will not disappoint. Some of the many fantastic options for youngsters include LEGOLAND Discovery Center, the ultimate indoor Lego playground including Lego-themed rides and activities, the Showcase Cinema de Lux theater, iFLY, an indoor skydiving facility, and Rockin' Jump, an indoor trampoline experience.
For the more experienced individuals of Yonkers, there's Yonkers Raceway and Empire City Casino. This fantastic establishment is owned and operated by MGM Resorts and boasts of a world famous racetrack. According to a 2012 report, the casino was the state's "most successful casino and racing venue". In 2011 alone, the facility provided more than 3,000 jobs and contributed $262 million in economic output. Empire City Casino is also home to some top-rated dining establishments including Dan Rooney's Cafe & Bar, Pinch (pronounced PEEN-cho), Nonno's Trattoria, and Empire Terrace.
Film afficionados will appreciate the Alamo Drafthouse. This chain of movie theaters is slightly different than your average cinema. As well as hosting the latest releases, the Alamo Drafthouse features more independent films. This includes cult classics, "quote along" nights, and art house filmes.
Explore The Great Outdoors
Untermyer Park and Gardens is 43-acres of historical gardens. The gardens were created in 1899 when Samuel Untermyer purchased the land and transformed the grounds into stunning gardens and greenhouses. He brought in an architect to fully design the gardens in 1916 and opened it to the public to enjoy the scenic displays of tulips and chrysanthemums. The gardens were taken over by the City of Yonkers after Untermyer's death and restored to open back up to the public, although some sections of the land still lay in ruins.
Many other parks are available to the locals of Yonkers. Parks such as Van der Donck Park, Lenoir Preserve, Beverly E. Smith Butterfly and Hummingbird Garden, and Tibbetts Brook Park. These beautifully-maintained parks are filled with serene walking paths, babbling brooks, and acres of fresh, green grass to sit back and relax on a sunny afternoon.
Yonkers is also the entry-point for the Old Croton Trail. This beautiful hike travels north along the Hudson river for approximately 20 miles. It's a simple route, accessible for hikers of all challenge levels. The trail offers many stopping points along the way for a change to take a rest, get a snack, or just enjoy the peace and quiet of the river. Visitors to the trail will have the opportunity to spot a variety of birds and maybe even some deer frollicking near the water.
Education in Yonkers
The public schools in the city of Yonkers are managed by Yonkers Public Schools. This school board consists of 40 schools and offers education to approximately 25,210 students ranging from pre-kindergarten all the way up to postsecondary adult education.
There are 8 schools catered to middle and high school students in the 7th to 12th grades. This includes Yonkers Montessori Academy which houses students from pre-kindergarten to 12th grade.
There are 30 elementary/middle schools for students from pre-kindergarten through 6th grade and pre-kindergarten through 8th grade.
There is one early childhood school that caters to young students only, from pre-kindergarten to the 2nd grade, and one adult education school focusing primarily on postsecondary education for adults.
A Look At The Arts
Yonkers is brimming with history and culture. Yonkers provides many different museums and art galleries for locals and visitors alike.
Philipse Manor Hall is a Colonial-era house that belonged to the original Dutch colonists, Frederick Philipse and his wife Margaret Hardenbroeck, in 1682. The manor has been preserved over the years and now functions as a museum and archive, giving visitors a look at what life was like before the American Revolution.
Sherwood House Museum is another pre-Revolutionary War house preserved over the years. Located at 340 Tuckahoe Rd, this beautiful farmhouse was built in 1749 by Thomas Sherwood. Sherwood leased the land from Frederick Philipse, who owned almost all of the modern city of Yonkers. The house is now owned and maintained by the Yonkers Historical Society.
The Hudson River Museum is located along the banks of the Hudson River and offers incredible exhibitions of nineteenth-century and contemporary American art. HRM also offers its visitors a glimpse of the skies with their top-of-the-line Planetarium as well as their environmental teaching gallera, Hudson Riverama, and an outdoor amphitheater.
Shopping and Dining
Yonkers' downtown plaza is called "Getty Square" and is the location of many local businesses and nonprofits creating a major retail hub for Yonkers and the neighboring Northwest Bronx. Getty Square promotes seasonal farmers' markets including the St. John's Church's market which is the oldest farmers market in all of Westchester. Getty Square is also home to a thriving business and banking operations. All major national banks can be found here including Wells Fargo, Citibank, HSBC, and more, offering convenience to the local shoppers.
Ridge Hill is the regional shopping center of Yonkers. This beautiful open-air concept mall features all the familiar big-box stores as well as retailers local to New York. Ridge Hill offers opportunities to shop, dine, and play, including a fantastic children's play sculpture. Guests have over 50 shops to choose from and a plethora of delicious dining establishments including nine full-service restaurants as well as many quick-grab options for those eager to fuel up to continue their shopping.
The Cross County Shopping Center is another fantastic open-air mall that hosts over 100 stores and restaurants. Cross County Shopping Center was the first mall in Westchester County, opening in 1954. The original core of the center was made up of Gimbels (now Macy's), John Wanamaker (now Sears), and F.W. Woolworth Company. In 2007, the center began development on a major upgrade, which was completed in 2012 and involved being enlarged by one-third, a new covered parking lot, and an underground loading complex.