North Salem NY Homes for Sale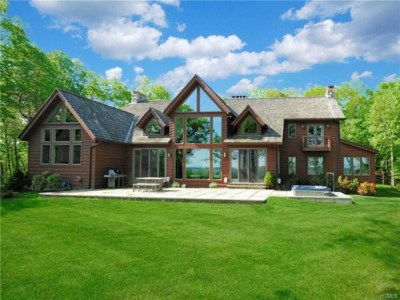 Rural... Serene... Located in northeast Westchester County, the town of North Salem is just a bit over 50 miles from Manhattan and is known for its prime equestrian real estate. With a population of just over 5,000, North Salem is a quiet hide-away with many areas devoted to outdoor recreation.
Single family homes for sale in New Salem range widely in price, anywhere from under $300,000 for a bungalow or ranch-style home, to over $6 Million for equestrian farms. If you are thinking of building your own custom home, ask us about land with acreage in the $275,000 - $375,000 range. Either way, if you are searching for a tucked-away community that's convenient to the city, welcome home to North Salem!
Jump To: North Salem Listings | North Salem Info | Contact Us | Create An Account
North Salem NY Homes for Sale
September 28, 2023
North Salem NY Homes for Sale
by Price
About North Salem, New York Real Estate For Sale
Luxury Homes in North Salem
For more information about
North Salem NY real estate
, or homes and condos throughout
Westchester County in NY
, call Hire Realty LLC
914-598-2386
today.
Luxury homes for sale at the top of the market in North Salem range from just over $1 million up to nearly $6.5 million. Many come with acreage and are estate homes with all accoutrements that ultimate comfort enjoys. Buyers have their choice of home age, from the 1800's through new construction properties. Generally speaking, square footage amasses from 2,200 to a soaring 10,000-plus square feet featuring 3-6 bedrooms and up to 8 baths. Most historic homes have been fully renovated and feature modern amenities such as open floor plan, huge chef's kitchen, and expansive bedrooms. Outdoor features might include a pool, expansive yards with established landscaping, and equestrian facilities. Many have picturesque settings with breathtaking views seen through plenty of windows and numerous vantage points outside.
Homes below $1 million to the mid-$500,000's customarily have desirable features like multiple living levels, fireplace, hardwood flooring, closets, gourmet kitchen, and built-ins. Typically with 3-5 bedrooms and as many baths, homes are quite comfortably ranged from 1,940 to almost 5,500 square feet. Outdoor spaces are equally attractive with wide front porches, water features, rolling lawns on large lots, and plenty of privacy. Homes run the age-gamut from the 1800's to new construction. Most have been nicely updated with modern conveniences and amenities.
Other North Salem Real Estate for Sale
From just under $500,000 to $300,00 in North Salem, you're more likely to find a home in a subdivision like The Cotswold or Lake Hawthorne. Commonly, the age of the homes varies widely from the early 1800's to the late 1980's, many having been restored and some in need of a little updating. The options are very versatile with up to 3 bedrooms and as many as 4 baths arranged in from 1,400 to over 3,000 square feet. Common features might include hardwood flooring, ceiling fans, kitchen updates, fireplace, extra storage and basement. Home lots are still relatively large and private at this price point. There are several opportunities for starter homes close to recreation areas and transportation into the city.
You can also start from scratch and custom build a beautiful home on available multi-acre land tracts of up to 11-plus acres. From $48,000 to $350,000 you'll likely find a selection of lots within neighborhoods or in private locales. Lots tend to be wooded and in some cases relatively level.
Commuters will be encouraged to know that North Salem also has co-op living options in developments like Bloomerside available below $300,000. You may find units as spacious as 3-bedrooms and 3 baths across upwards of 1,100 square feet. Some have views, sizeable yard, deck or patio and bedrooms with ensuite bath.
Things to do in North Salem
Check out the trails at Baxter Preserve for year-round fun – hiking, mountain biking, horseback riding, cross country skiing and the like. You can also visit The Balanced Rock, a geologic anomaly featuring a naturally occurring massive granite boulder securely atop five smaller rocks.
Back to Listings for Homes for Sale in North Salem