Making an Offer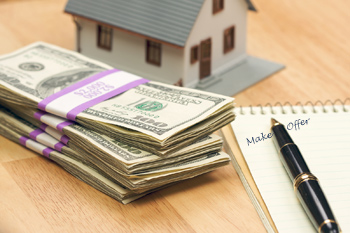 It's easy to get caught up with the excitement of buying your first home. Below are some tips for Making an Offer. Let a real estate professional guide you so that you don't end up paying more than you should, or can afford.
By this point, you should have already been pre qualified or pre approved by a lender, unless you are paying cash. Why is this important? Because the Seller wants to know that you are a solid offer and that you can afford their home. Though neither the prequalification nor the preapproval are guarantees you will get the loan, the seller would more seriously consider your offer because it indicates you were proactive in understanding your financial situation and how much home you can afford.
Once you have the pre-qualification or pre-approval letter in hand, and have found the home you want, the next step is determining the amount of your offer. This is a critical step - it needs to be realistic based on the current market in the area, how long the home has been on the market, and your budget, and it needs to be competitive, if in a multiple offer situation, or likely to become one. In a multiple offer situation, the seller is considering more than just your offer.
The real estate experts at Century 21 Hire Realty
can guide you through the process of making the right offer so that you don't miss out on the home of your dreams. Call us today
914-458-5677
.
To determine the right figure, you will want to sit down with your Westchester County real estate professional, to:
Get the prices of at least three comparable listings of homes currently for sale in the neighborhood,
Research recent sales to learn what homes are actually selling for in that neighborhood, and
View any pending sales to learn the selling price of homes have recently been sold but not yet closed.
Note: You should not just assume that you will have room (or the opportunity) for negotiation – that may not be the case in a competitive market. You want to get it right the first time.
It takes equal parts of skill and science to determine an offer that is realistic yet competitive. We know the Westchester County real estate market, and we will help you interpret the data to come up with a strong offer that will get you the best deal.
Other things your real estate professional should be able to tell you, before you make your offer:
How long has this home been on the market?
What is the likelihood of this becoming a multiple offer situation?
What contingencies should I include in my offer?
Is it possible to offer less than the asking price and still make my offer attractive to the Seller?

Can you offer a shorter closing period?
What if you increased the down payment? (the Seller knows that the less you borrow, the more chance of getting the loan's final approval and the sale closed in a timely manner)
Your real estate professional at Century 21 Hire Realty will help you get your key questions answered and give you advice on how to evaluate your findings. The process can be daunting, and we understand that. We will explain the process, step by step so that you are comfortable that you are making the right offer, the first time.
---